Gwyn Prescott, Simon Baker and Frédéric Humbert
With Cardiff Blues drawing Stade Français in this year's European Challenge Cup, this is perhaps an appropriate time to highlight a couple of recent additions to the Museum. These relate to a Stade Français and Stade Nantais player, Georges Mergault, who led an eventful life and who wrote about his experiences with Cardiff RFC before the First World War. 
Stade Français first played Cardiff in 1905 when they lost 44-8 at the Arms Park. For the return fixture in Paris three years later, it was a Cardiff Reserves player, Georges Mergault, who helped to arrange the match with his former club.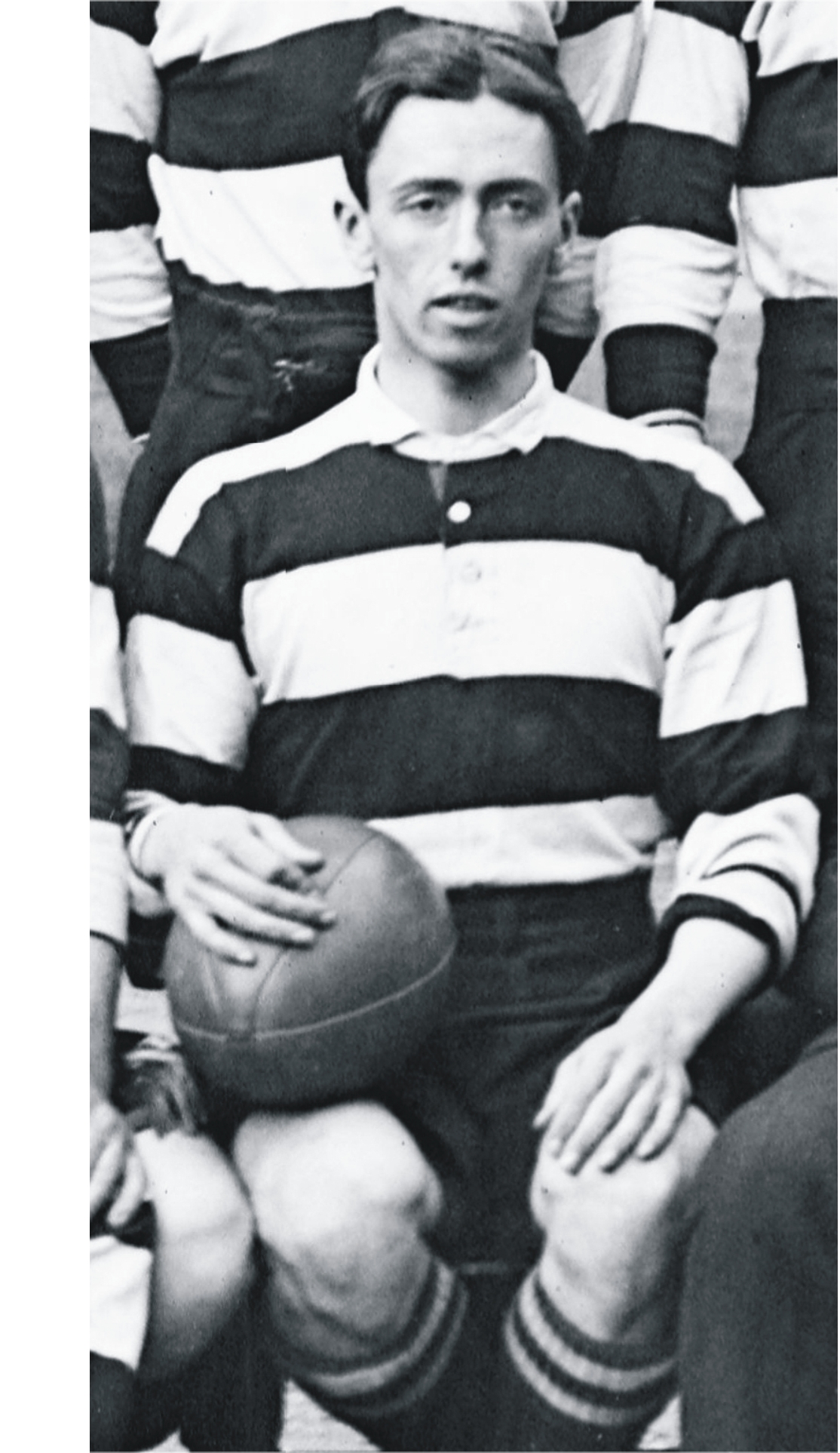 Mergault learned the game at St Nazaire, where he had been born in 1885. A good sprinter, he later joined Stade Français as a wing three-quarter. However, anxious to improve both his language and his rugby skills and, at the same time, to study the way in which the game was played in Wales, in 1907 he decided to come to Cardiff. He first signed up with Whitchurch RFC that September and immediately made an impact, receiving some good press reviews and scoring some brilliant tries for the village club. One reporter even thought that on his form, "Mergault should be a certainty for a French cap". 
After such a promising start at Whitchurch, in December 1907, Georges transferred to Cardiff RFC where he was given a place in the Reserves. Referring to Cardiff's "latest recruit", the
Evening Express
reported that the young Frenchman was "full of British ideas as regards sport." His improvement at Whitchurch "was noted with every match and he possesses great speed, pluck and dash." 
At the end of 1907-8, the leading Welsh clubs were asked by the WRU to arrange special missionary games in the valleys. So after the completion of Cardiff's official season, they selected a Club XV to visit Brynmawr. Even though the match was not originally on the official fixture list, Cardiff selected a reasonably strong team. The Reserves had a game on the same day – they defeated the Bath First XV 9-6 – but Georges was picked for the "Firsts" at Brynmawr. To everyone's surprise, Cardiff lost 8-6. The match, however, was never recorded as an official one and so unfortunately Georges Mergault's name does not appear in the club's roll of First XV players.
He continued in the Reserves for a few games the following season, appearing in Blue and Black colours for the last time in November 1908. This again involved a "Cardiff XV "and his selection would have meant a lot to the French winger. After all, he had helped organise the team's visit to Paris where they were to meet his former club, Stade Français. It was a Monday fixture, which involved travelling to France immediately after Cardiff's Saturday fixtures. Consequently, it was only possible to send a Club XV, comprising First and Second team players and a couple of guests. So again, Georges came close to representing the First XV but never quite made it. He was, however, honoured on the occasion by being given the captaincy of the team, as can be seen in the team photograph.
Click here for team details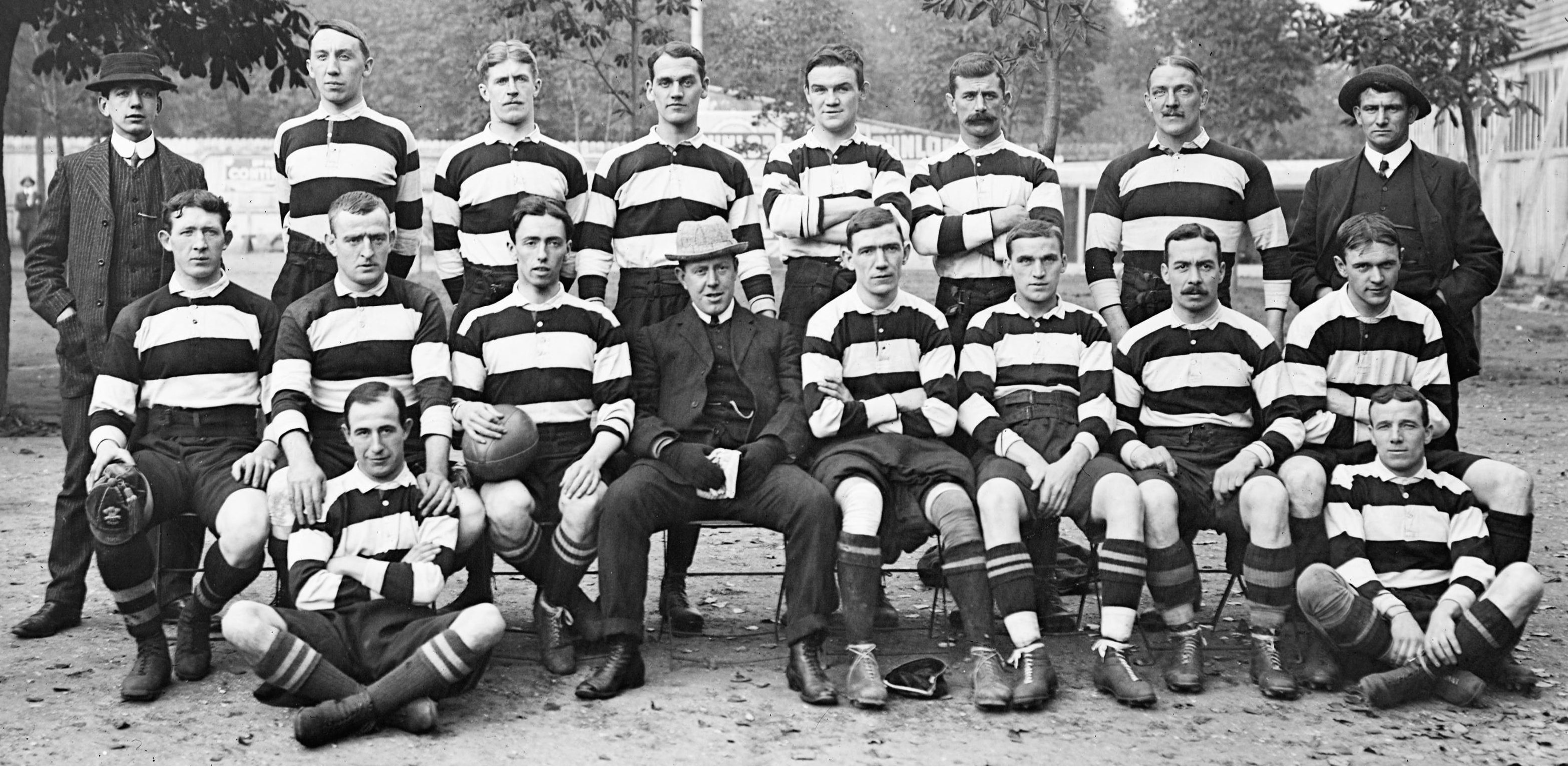 The game was a close one in which Stade Français played well in the first half and led 8-3 at half time. But Cardiff then pulled themselves together and scored two tries to run out winners by 11-8. There was a good attendance at Parc des Princes and the sportsmanlike crowd cheered the efforts of both sides. -
Match Report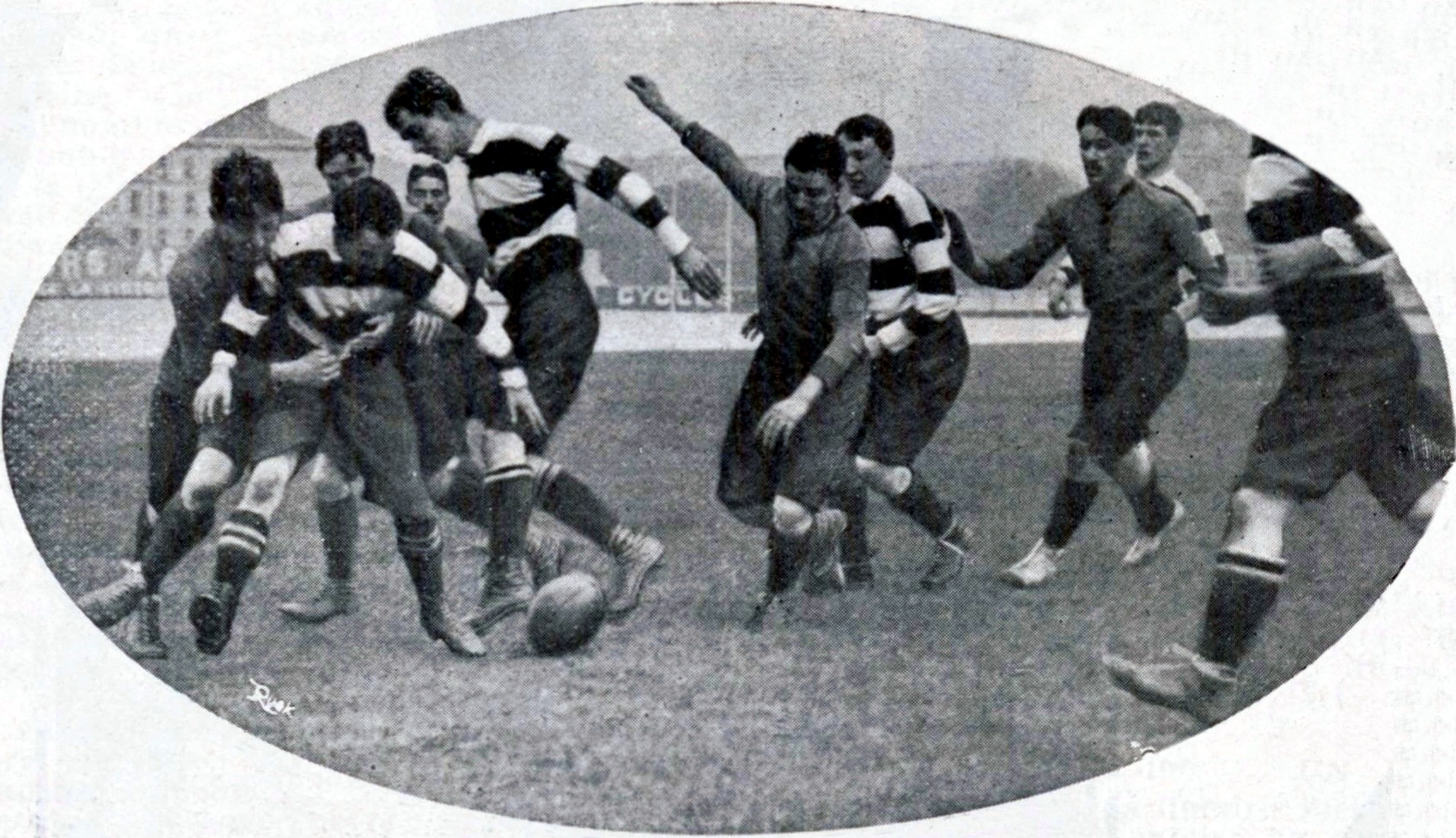 Georges then moved on to London Welsh, qualifying because he had previously played for a Welsh club. There he did make the senior team, playing in several First XV matches before the end of the season. In April 1908, he entered into a short-lived marriage in London with Violet Roberts Jones, a young Cardiff actress. Returning to France with Violet and their and son, he then joined Stade Nantais. Not long afterwards, he became a team-mate of the mercurial outside-half, Percy Bush, who left Cardiff to work in Nantes in February 1910. Percy was impressed with Georges and wrote of him:  
Mergault … will be well remembered by frequenters of the Arms Park as a strong and resourceful player, quite up to the average of even Welsh players. He has improved wonderfully since his return home … and is now just about one of the best wings in France, having lost none of his pace and having profited by his career in Welsh Football.
 
Drawing on his experiences in Cardiff, Mergault published a short book while in Nantes, entitled,
Le Rugby Gallois
. In this, Georges describes Welsh playing and training methods and advises his countrymen to adopt the attacking game favoured by Welsh teams. The foreword was contributed by Percy Bush. Recently, a copy of this rare work was kindly made available to the Cardiff Rugby Museum by the Stade Nantais historian, Hervé Padioleau, and a translated version of the book can now be read on the Museum's website. 
Le Rugby Gallois by Georges Mergault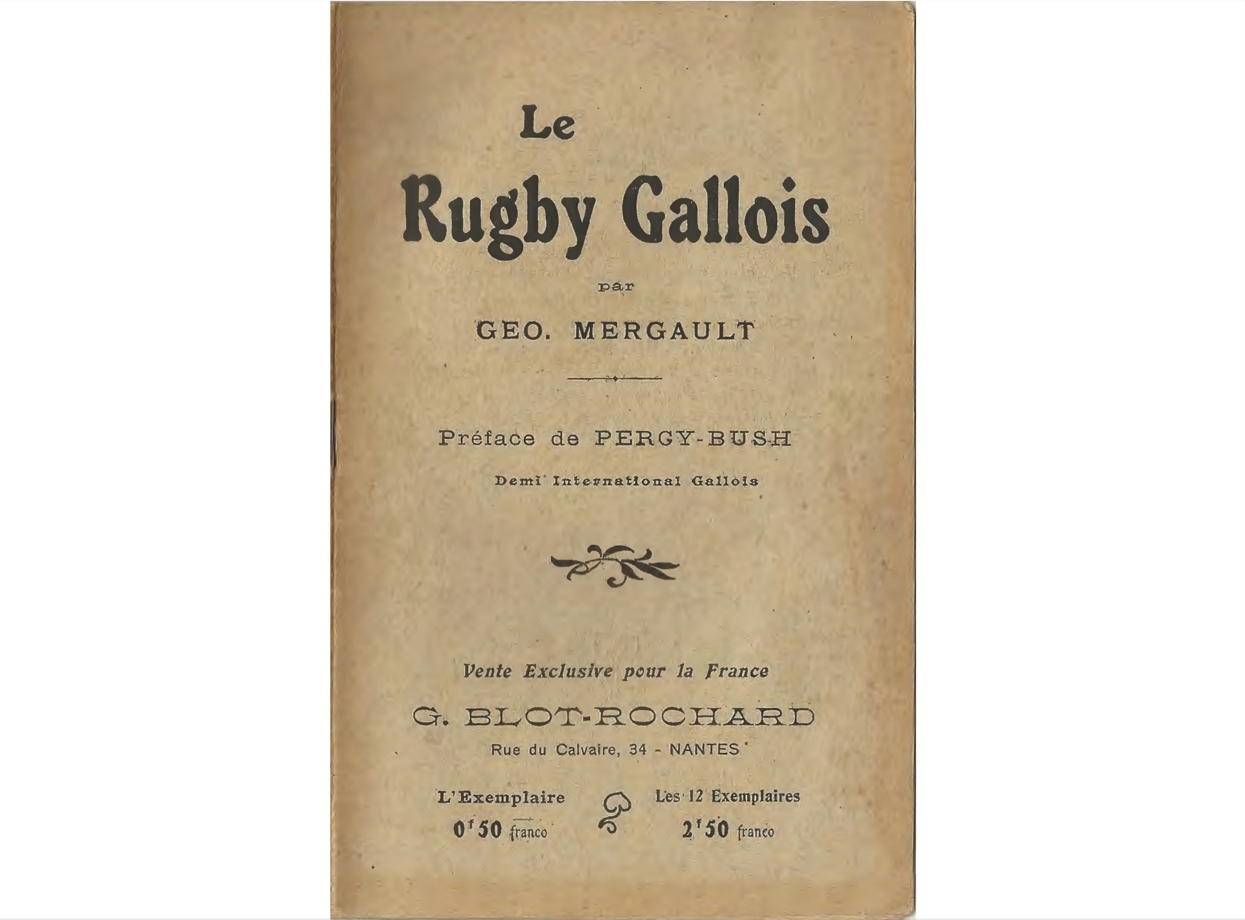 Sadly, Georges Mergault's life took a downward spiral after the outbreak of the First World War. He was initially discharged from the French Army on medical grounds but, with the French suffering terrible losses, he was nevertheless called up again in 1917. Army life didn't agree with him. He was court-martialled for desertion and sent to a penal military unit and then prison.  Georges probably never fully recovered from his experiences.
After the war, he took up poetry and even published a short book of his verses. He gravitated to the Montparnasse district which was the centre of Parisian artistic life, frequented by painters, writers and musicians. Well known amongst the habitués of this bohemian quarter,  Georges was regarded by them as a "genial drunkard". He spent his life there. With no home, he sat drinking in the cafes most nights and occasionally slept rough on the benches in the nearby Luxembourg Gardens. In poor health and homeless, he died in 1932. 
However, perhaps it is better to recall  Georges Mergault's time in Wales and how he saw a potential link between Welsh rugby and the future of the game in France. His book "Le Rugby Gallois" concluded with these optimistic and prescient words:    
At the present time, let us content ourselves with studying football as demonstrated by the Welsh; it is certainly the version which best adapts to our national temperament. With its great variety and its humour, its speed and its unforeseen developments, it offers us all the elements of an essentially French sport, which our educators, without a doubt, will soon notice.
Our thanks to Hervé Padioleau of Stade Nantais for his assistance.
Frédéric Humbert is a French rugby historian and serves on the committee of the World Rugby Museum at Twickenham
.
Photographs - Source gallica.bnf.fr / Bibliothèque nationale de France