Long before the days of Bruiser, Cardiff RFC also had its own bear mascot. It was acquired originally for the South Africa tour in 1967 and was described by a player of that era as a "king size teddy bear dressed in full playing kit with a cap and boots and even a number (24) on its back" The bear wore a Keith Rowlands scarf in honour of the captain who was unable to lead his side on that tour as a result of injury. The bear was named " Shaunee " though nobody seems to remember why.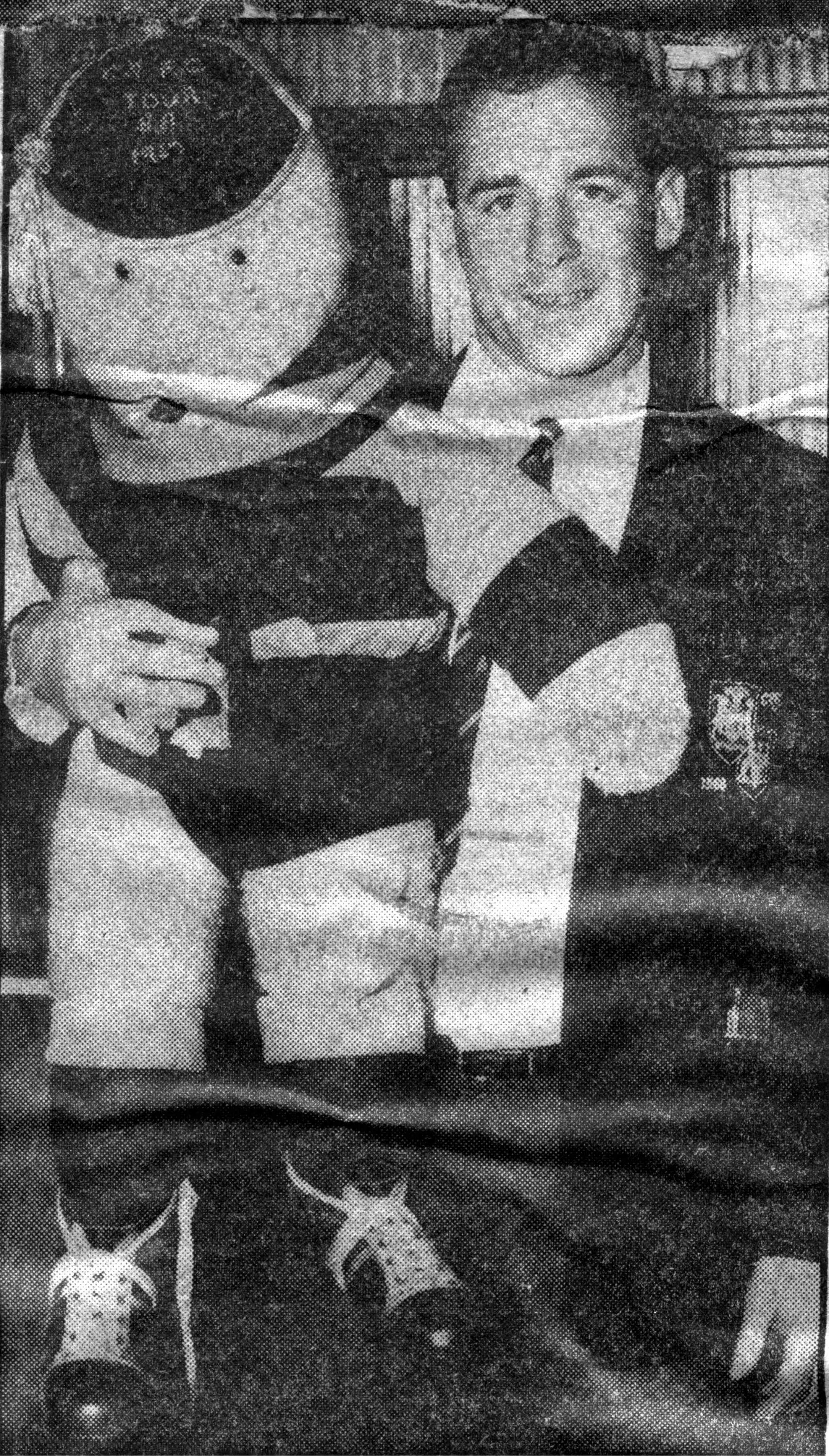 Billy Hullin - Cardiff captain for the 1967 South Africa
  tour with Shaunee.
  Players who saw the photograph being taken said it
  was important to point out that the mascot is on the    left.
Subsequently, the bear was given to the youngest member of each tour party and he accompanied the teams that toured Rhodesia in 1972 (below) and Canada/United States in 1977.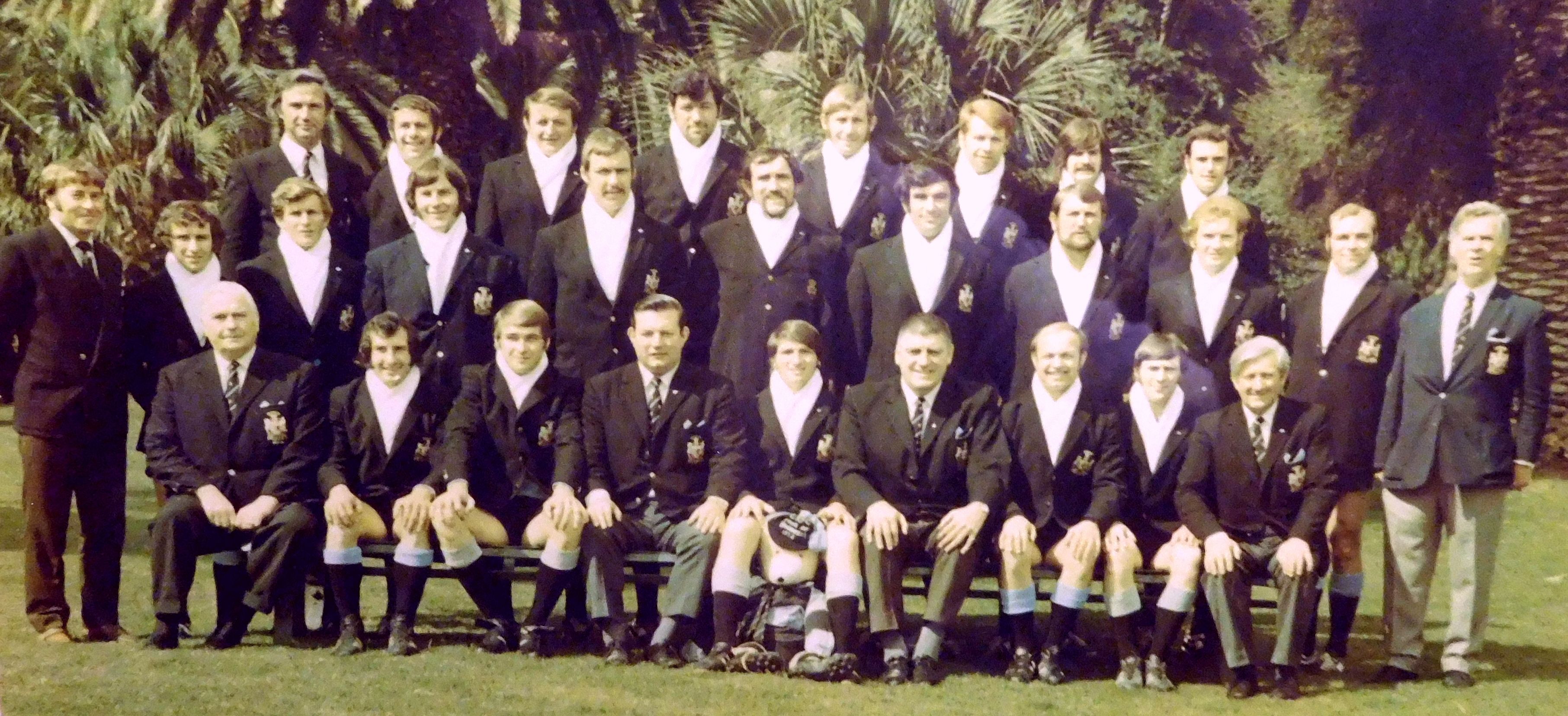 In between tours Shaunee resided in the trophy room at Cardiff Arms Park and a
Cardiff Bear Grogg
was commissioned in his honour. The touring tradition was carried on until 1978 when it disappeared.
Former player Bob Newman relates the story …
"In 1978 Cardiff and Rosslyn Park RFC were invited to Venice to take part in a triangular tournament with Italian regional champions I Dogi. The established scrum halves (Terry Holmes and Brynmor Williams) were unavailable so the party included Nigel Tidball and a 17 year old David Bishop. Malcolm Collins and Mervyn John travelled as committee men.
The Cardiff party travelled to Heathrow to fly to Milan and shared a coach with Rosslyn Park across to Venice. The bear, dressed in Cardiff kit, was presented to Bishop as the youngest on tour and he was informed that he was in charge of it for the duration and that it was priceless having been on every tour since 1967. The party arrived in Venice after travelling all night, dropped off the Rosslyn Park party at a fabulous hotel and went on to their hotel which was  slightly less than average. The Cardiff players decided that that hotel was not up to their standard and they were off back to Milan unless it was sorted! Two hours later they moved into a much nicer hotel than Rosslyn Park – the first result of the tour.
Cardiff played the first two games and Julian O'Brien starred and the legend of El Bambino was born (another story). Dave Bishop was less than pleased at not playing at all in the first 2 games and having to carry the bear everywhere. The party left Venice for Lake Garda for two days rest before playing the Italian Barbarians in Milan. Cardiff captain Barry Nelmes was very harsh with "Bish" wanting him to fetch and carry at every opportunity. When Nelmes asked the whereabouts of the bear Bish replied "it is with the fishes". Nelmes exploded and chased Bish for a full 5 minutes while being taunted the whole time which was entertaining for the rest of the party. The committee intervened and excluded Bish from the final game which meant he missed his debut for Cardiff. Despite losing the match to the Barbarians we won La Gondola D'oro"
The legend of the Cardiff bear ends at Lake Garda. If you are ever there on holidays please doff your cap in memory of the Cardiff bear.
There is rumour of a follow up story when we try to explain how a certain committee man and former captain of Cardiff RFC ended up standing on a car roof in Venice………………
Watch this space !